When you're building a new business, it's often the case that you need to have a second form of income to keep your personal and professional life afloat. But how can you find balance between the two but still start out strong and find the true success you seek? Working multiple jobs – and succeeding at each – is absolutely a possibility! You just need to take a little extra care in each step along the way.
How to Balance a Fulltime Job With Starting Up
Balancing a fulltime job with starting up can be a huge challenge, but it's often necessary to support yourself while you prepare to launch your business. It's important to know that entrepreneurship isn't for everyone, because everyone's not emotionally and financially equipped to handle the risks.
But if you are willing to dig in, put in the work, time, effort, and sacrifice required to make something sing, listen up — greatness may be yours for the taking.
Here's a look at three separate paths to entrepreneurial greatness.
1. Some are born great. Truth be told, I have friends who were born into entrepreneur-friendly environments, and the road to entrepreneurship for them was never a question of "if," but rather, "what." Think Trump kids here.
This system typically allows them to leisurely stroll out of college into their own business without having to think much about how they will pay their bills as they build a profitable business.
2. Some achieve greatness. The vast majority of entrepreneurs, myself included, fall into this category. We possess the entrepreneurial spirit to pursue a vision and dream, but we did not grow up in entrepreneurial environments and did not have the financial means to build something without having a job.
However, with focus and dedication, slowly over time, we become masters of a specific skill and eventually find our place among the innovators.
3. Some have greatness thrust upon them. Two words: Mark Zuckerberg. This is a prime example of a zit-faced college dropout who had enough computer science skills and quirky, somewhat off-putting, business savvy, to rapidly build one of the world's most watched companies. It's not that he didn't work hard, or that he didn't put vast amounts of time into pursing his vision while making sacrifices, but this level of entrepreneur royalty is reserved for a select few.
Read more — How to Balance a Fulltime Job With Starting Up
If you're questioning if you're actually on the road to success or if you've swerved off the path, these 7 signs could be a true encouragement.
7 Signs That Youre Going to be a Success!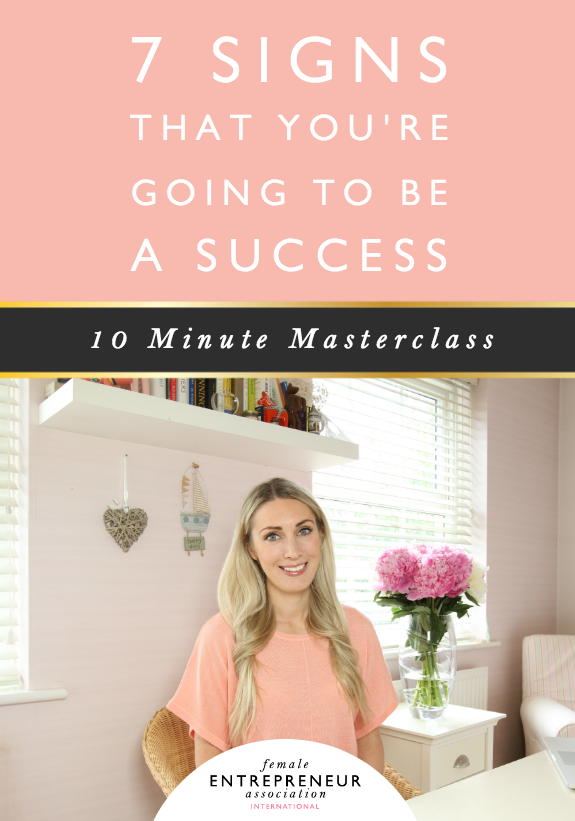 YOU KNOW WHAT YOU WANT & YOU BELIEVE IT'S YOURS FOR THE TAKING
If you've acknowledged the fact that time goes by fast and the only way to live the life you want to live is by actually knowing what you want then *hurray*you're on your way to succeeding.
YOU HAVE A GAME PLAN
If you have a plan, even if it's just a vague one, of the things you need to do in order to achieve what you want, you're on your way! One of the biggest reasons why people don't succeed is because they don't have a plan of action.
YOU'RE NOT AFRAID TO FAIL
Being an entrepreneur requires guts. You have to have the courage to put your ideas out into the world… which can be terrifying. You have to have the confidence to ask for help, even though you might get turned down.
You have to be prepared to put yourself out there and try, even though you might fall on your face.
YOU WORK FROM THE HEART
If you work from the heart, doing something that you love and being your true authentic self, then not only will you succeed, you'll have way more fun and enjoy the journey more.
YOU'RE TENACIOUS BEYOND BELIEF
If you've gone off track, found the road's become a little bumpy… even faced huge blocks along the way, and throughout it all you've kept going then you're closer to succeeding than you think.
The entrepreneurial journey is not always easy and it's the people that hang on that succeed. So carry on being the kind of person that will hang on, even when everyone else has let go.
YOU DON'T LET OTHERS BRING YOU DOWN
If you've come across strange, mean people who would rather see you stumble and fall, instead of succeed, and you used their comments to fuel your desire to succeed, rather than stop you, then congratulations for not letting someone else kill your dreams.
YOU'RE PREPARED TO BECOME THE PERSON YOU NEED TO BE TO SUCCEED
Succeeding takes hard work, determination, focus, effort, discipline. If you've made the commitment to yourself to be the person you need to be in order to succeed, then you are well on your way.
Ask yourself every day, "what kind of person do I need to be today in order to succeed?" and then become that person.
Read more — 7 Signs That Youre Going to be a Success! | Female Entrepreneur Association
What are some things you do to help yourself find success, even when it's hard? How do you keep your spirits up and keep yourself focused as you build your business?